Why Your Business needs To Move To Office 365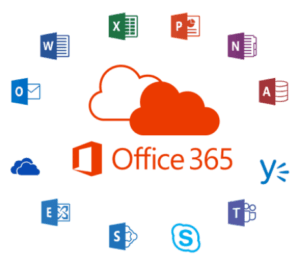 Microsoft Office 365
Doing business on the go has become easier than ever with Microsoft's Office 365 software applications which can be used from anywhere on any device at anytime.
The applications that all users love such as Word, Excel, PowerPoint, Access, Publisher, OneNote and Outlook are now able to integrate with services like Business Skype, Exchange and Sharepoint allowing you and all your business employees to use their software applications from any device at anytime.
Office 365 Business Solutions
Using Microsoft Office 365 allows you to access a variety of essential tools such as being able to access your contacts, email, work calendars, and important company documents from anywhere in the world, on almost any device. Office 365 allows you to use online versions of the finest communication methods and network collaboration tools on month to month subscriptions basis.
Why Do You Need Office 365? It Allows You To Work On The Go From Anywhere
Work From Virtually Anywhere
Access Microsoft Office applications On Windows or Mac computers
Use Office Online on a wide range on internet browsers to view and edit all of your documents
Access your email on a wide range internet browsers using Outlook Online
Use your Smart Phone to access all of your essential services like your Contacts, Email, Calendar, and Sharepoint Sites.
Work Better As A Team
Office Online- Different versions of documents can be edited by different employees simultaneously.
Outlook- Manage your team better by using Microsoft Calendar to enhance your team productivity.
SharePoint- Create different storage sites to store important company documents for different locations.
Skype For Business- Business Skype allows you the ability to have online meetings with your employees, partners, customers, using video or audio and screen sharing.
Yammer- Stay ahead of it all. Keep the communication lines open within your team to ensure tasks are done in a timely manner
All Applications are familiar to you and you would already have used it before
Use familiar software programs such as Word, PowerPoint, Outlook and Excel
Use Outlook to effectively and efficiently manage your essential tools such as your email, contacts, and Calendar much easier
A familiar connected interface across the Office platform.
Using Office Online Offers Increased Flexiblity
Using Office 365 allows you view and edit your work documents effectively from any internet browser
Office 365 allows you to access your Word, Excel, PowerPoint, and OneNote documents online
You have the ability to edit OneNote and Excel documents simultaneously with your team members in real-time. Using SharePoint Online, you can manage your team much better by managing and sharing documents
You and your partners can work better together by all having access to business information
Give you company a professional look by creating a website using simple templates
Have Online Meetings And Message Team Members Instantly
Communicate with your clients and team members or employees using Skype from anywhere
Make video or voice calls with partners, colleagues or customers and easily have online meetings
Use Exchange Online to easily sync email, contacts, and Work Calendars across any device.
View and edit your email, contacts, and calendar on the go from anywhere
All Software Applications are protected with an Anti-virus and anti-spam solution
What Are The Benefits of Office 365?
Access Office 365 Apps from anywhere in the world 24/7
Work With All The Tools You Know And Love Already!
All Office Applications Are Safe And Secure To Use
Maximize productivity with a 99.9% uptime guaranteed
Subscriptions offer flexibility and easy scalability
Microsoft Office 365 Plans
We are a proud partner of Microsoft and can offer your business any of the Office 365 plans below:
Microsoft Office 365 Business Essentials
Microsoft Office 365 Business
Microsoft Office 365 Business Premium
Microsoft Office 365 Pro Plus
Microsoft Office 365 Enterprise E1
Microsoft Office 365 Enterprise E3
Microsoft Office 365 Enterprise E5
Along with the Office 365 plans offered, we can easily migrate all your company mailboxes to Office 365 without losing any mail. You get World Class Security, 50GB of storage space for each user mailbox and and each user will have their calendars synced across all their devices.
We also provide full technical support on all Office 365 business applications after initial setup, So be rest assured that you have our full support whenever needed.
MOVE TO OFFICE 365 BUSINESS TODAY!
Let us show you why are the best in the business by choosing us your preferred IT partner today!